Open Studio, 2002, Städelschule
An intervention into my former studio as an art student. The shape of the wooden platform in combination with the floor tiles functioned as an empty swimming pool. The platform was walkable, and also served as a pedestal for other works by studio colleagues and mine.
Lattenzaun was a Städelschule competition for the "Büropark Neu Isenburg", a site-specific art-in-architecture project in Neu Isenburg, organized by Wolfgang Winter.
Lattenzaun is a free-standing element of a former long fence used during the building's construction period. After finished, the fence was removed, except for one part, standing in the original position, where it was before. In the new context, the fence fragment becomes a sculpture and a document of time and place. 
An accompanying poem by Christian Morgenstern of the same title was framed and installed inside the building facing the picket fence.
2001, wood, paint, water, 250 x 300 cm
A pool painted matte black seemed to be bottomless if looking into it.
From afar, the pool appeared as a minimal black painting with a reflective surface.
In contrast to the positive associations of the color blue for pools, a black swimming pool appears to be odd, mysterious, and even possibly dangerous. Love and death, Eros and Thanatos as archaic forces, could be regarded as related to the element of water. In many movies, the pool serves as a stage of erotic attraction, jealousy, murder, and death.

The installation consists of a sculpture and a video.
The work speculates on the destructive nature of mass tourism and migratory locusts.
The video shows an old split-flap display arrival board
at Frankfurt Airport.
 Back in the day these large boards would regularly start flapping away noisily as the flight information,
hours and names of places,
 changed. 
The flip-flap sound is reminiscent of the sound of swarms of locusts.
The sculpture is a hybrid of a pool recliner and a locust.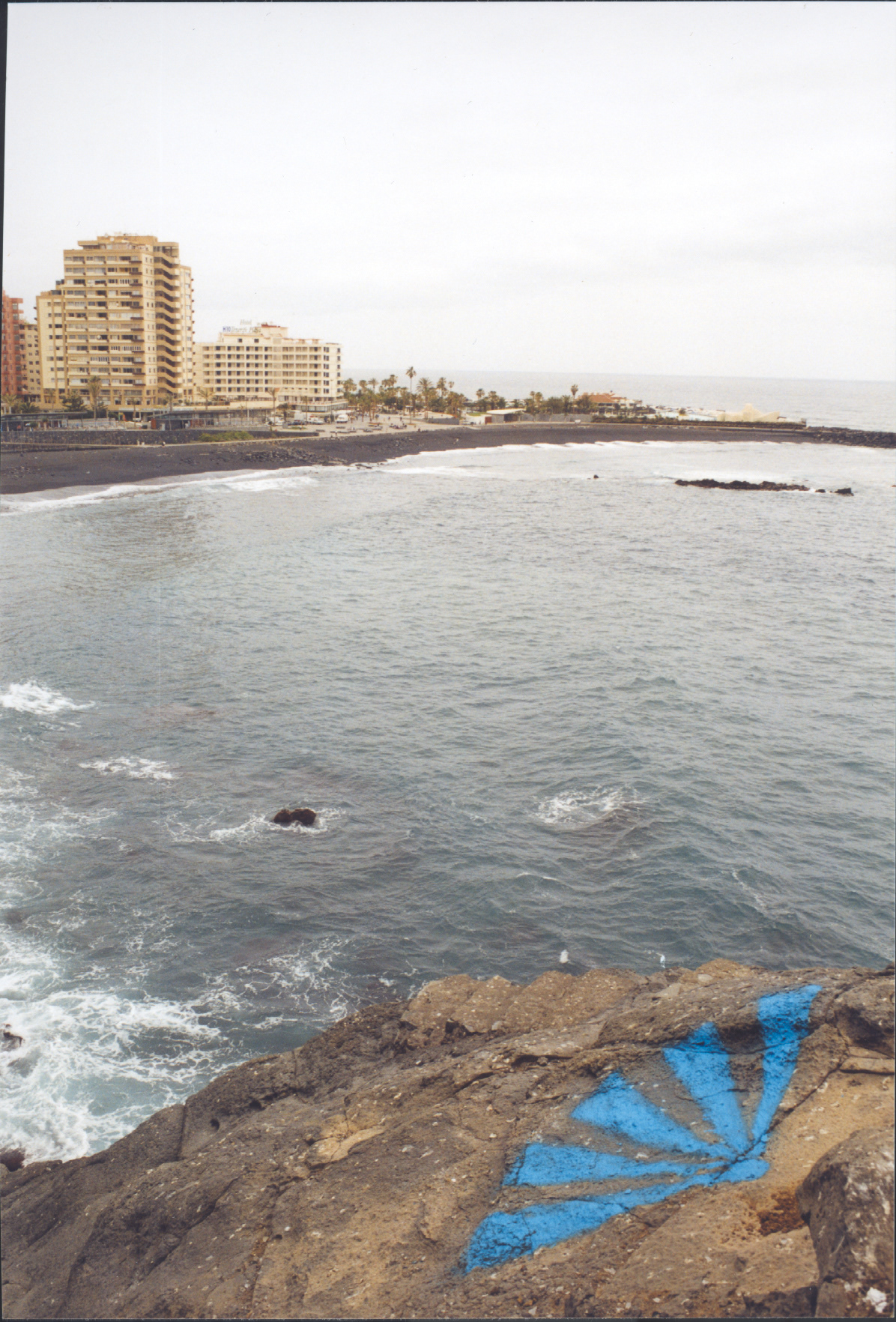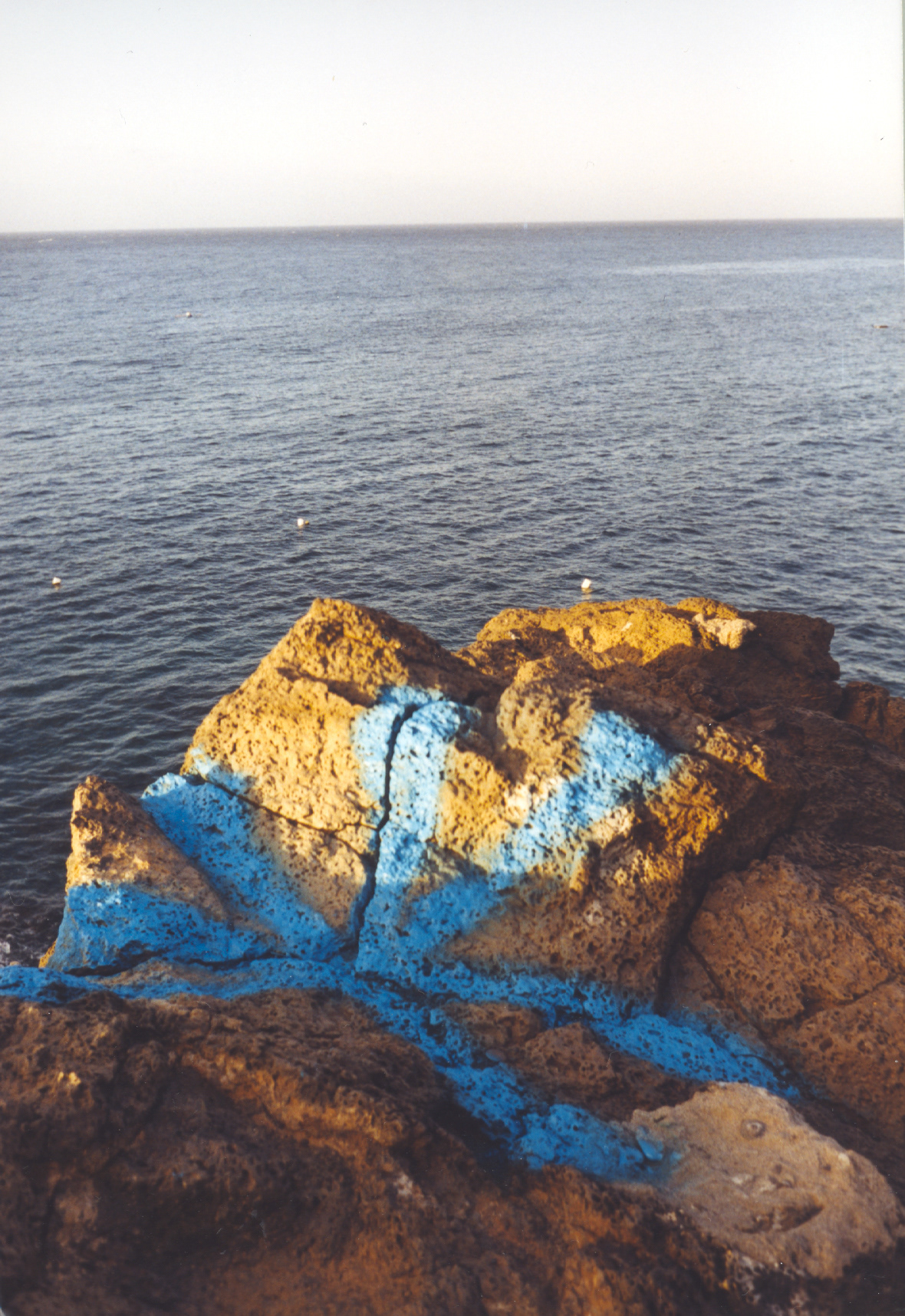 2002
b&w Din A0, digital print
The clover is a metaphor for good luck. The German language does not differentiate between luck and happiness, both are used for the word  "Glück".
The work "Pool und Glück" consists of different collected images from travel brochures with pool shapes looking like cloverleaves.
The collages show how the idea of "Glück" might be represented in the hotel and swimming pool architecture.

2002, photographs, 10 x 15 cm
Rephotographed photos out of travel brochures are presented in a block. One may view these images as one looks upon a hotel from the outside, looking into the hotelrooms. All photos mostly depict men and women in situations that reveal yearnings, sexual desires, or projections of what one should aspire to on vacation. Because unprofessional models and photographers were hired, the results often show a negative mood, with hotel guests looking bored, frustrated, or lonely.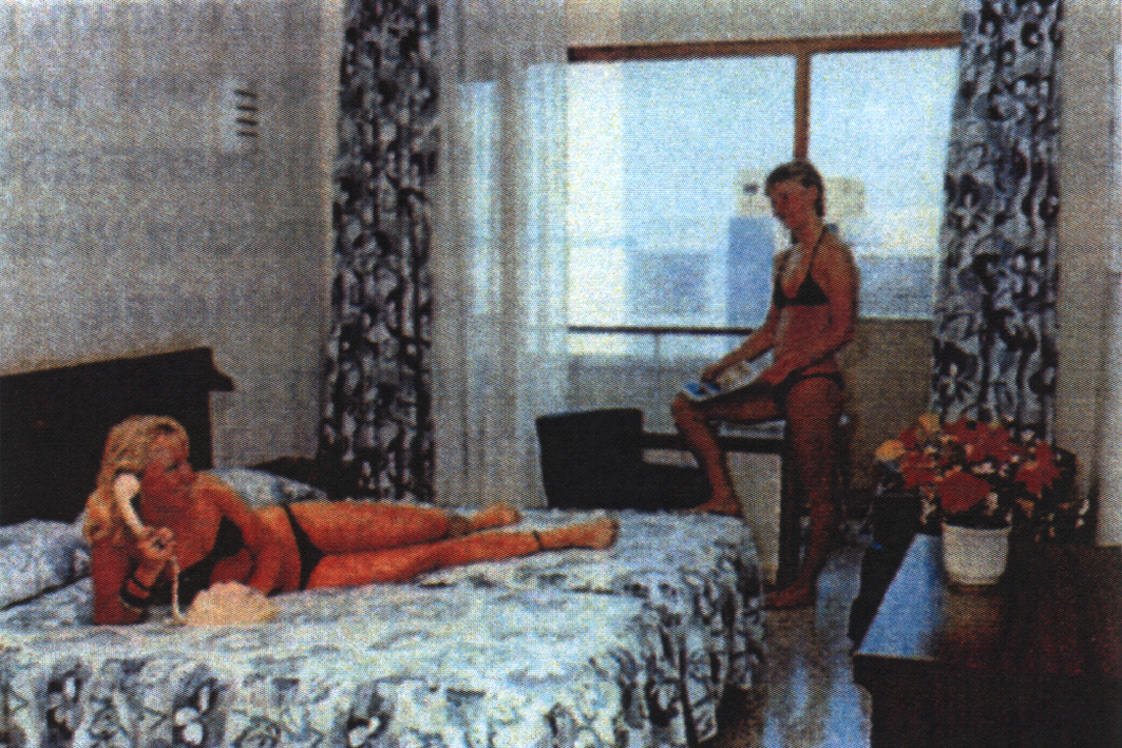 Open Studio, Städelschule
2001, hotel towel, various dimensions, artist book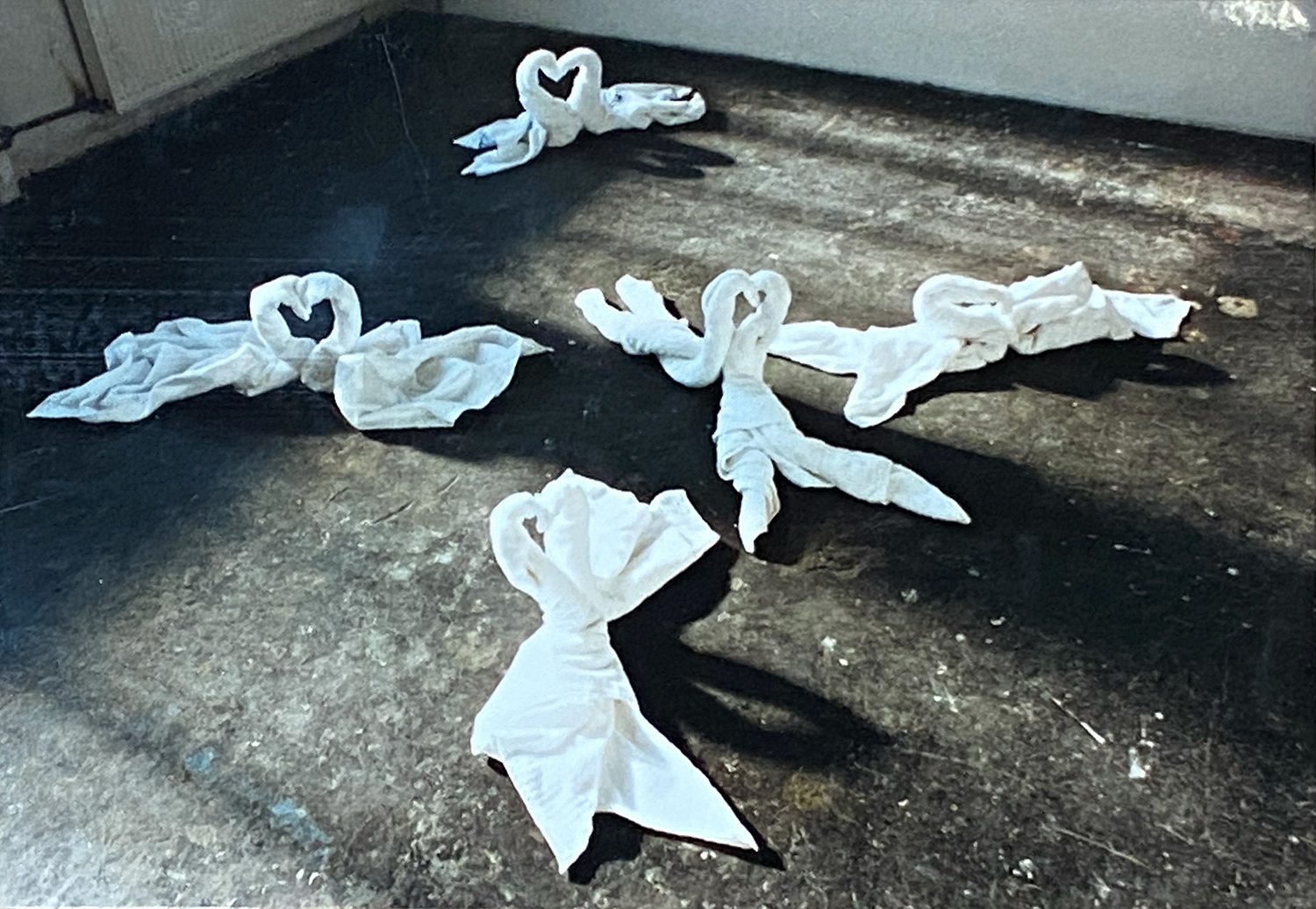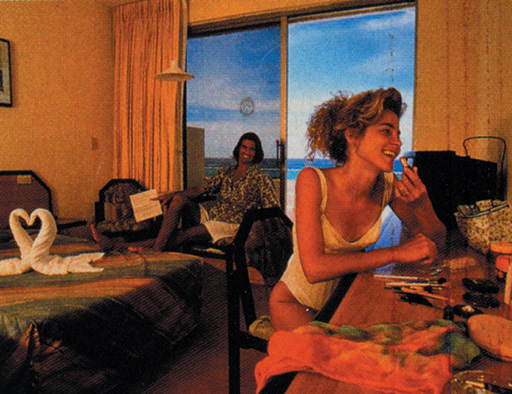 (Mickey Mouse, Palm Trees, Flowers, Waves, Lines, Suns, Fish)
2002, artist book, Din A5, laser print, color, stapled, plastic cover
2002, showercurtain, wire
In 2002 the Städelschule, Frankfurt, organized the "Gasthof". That year, students from international art schools were invited for seminars, presentations, projects, discussions, and communal cooking. 
During this time, the Städelschule's studios were emptied and used as sleeping rooms. A simple construction of stretched wire rope and movable shower curtains enabled different room partitions and enabled possibilities to create a private and public atmosphere. Sometimes the wire was also used as clothes-lines for personal belongings.
1998, artist book, b&w, 52 pages, edition of 3
 photographs, color
​​​​​​​