In the beginning of the movie The Swimmer by Frank Perry, 1968, Burt Lancaster as Ned Merill only wearing swimming trunks emerges from the woods like a wild animal and begins to swim a few lanes in a friends' private pool. After taking a sip of cocktail and during a superficial conversation, he looks over an upper-class terrain and suddenly comes up with the idea of swimming along an imaginary river made up of lined up swimming pools until his own house.
Sascha Pohle's video with the same title is set in the context of tourism where the artist takes over the protagonist's role by reenacting his swimming performance through a number of successive hotel pools. A common Thomas Cook travel brochure serves as a script and method of following a predefined swimming route through the island of Teneriffa; a random destination though, and just the first advertised place in the brochure. According to the order of the pages, the artist swims one lap, pool by pool. The video concludes with the 51st pool, open-ended, pointing to an infinitive number of places, or nowhere. The Swimmer documents a tourist world by unfolding a vast typology of pool architecture and its surroundings, with or without hotel guests, from different perspectives. The repetitive and supposedly absurd actions, the artist swimming alone in a leisure environment, SD video quality, aging hotels, and sequences that last for minutes give The Swimmer a strange melancholy. Comparing the photographs in the travel brochure with the crossed swimming pools in the video invites for a reflection on the photographic representation of the pool, an after image of a status symbol on the backdrop of a bookable temporary dream home for everyone. 
The Swimmer could also be read as an artificial survival metaphor, showing how the pool acts as a beautiful and uncanny Other to the nearby open sea with all its dangerous weather, wildlife and currents in its insecurity.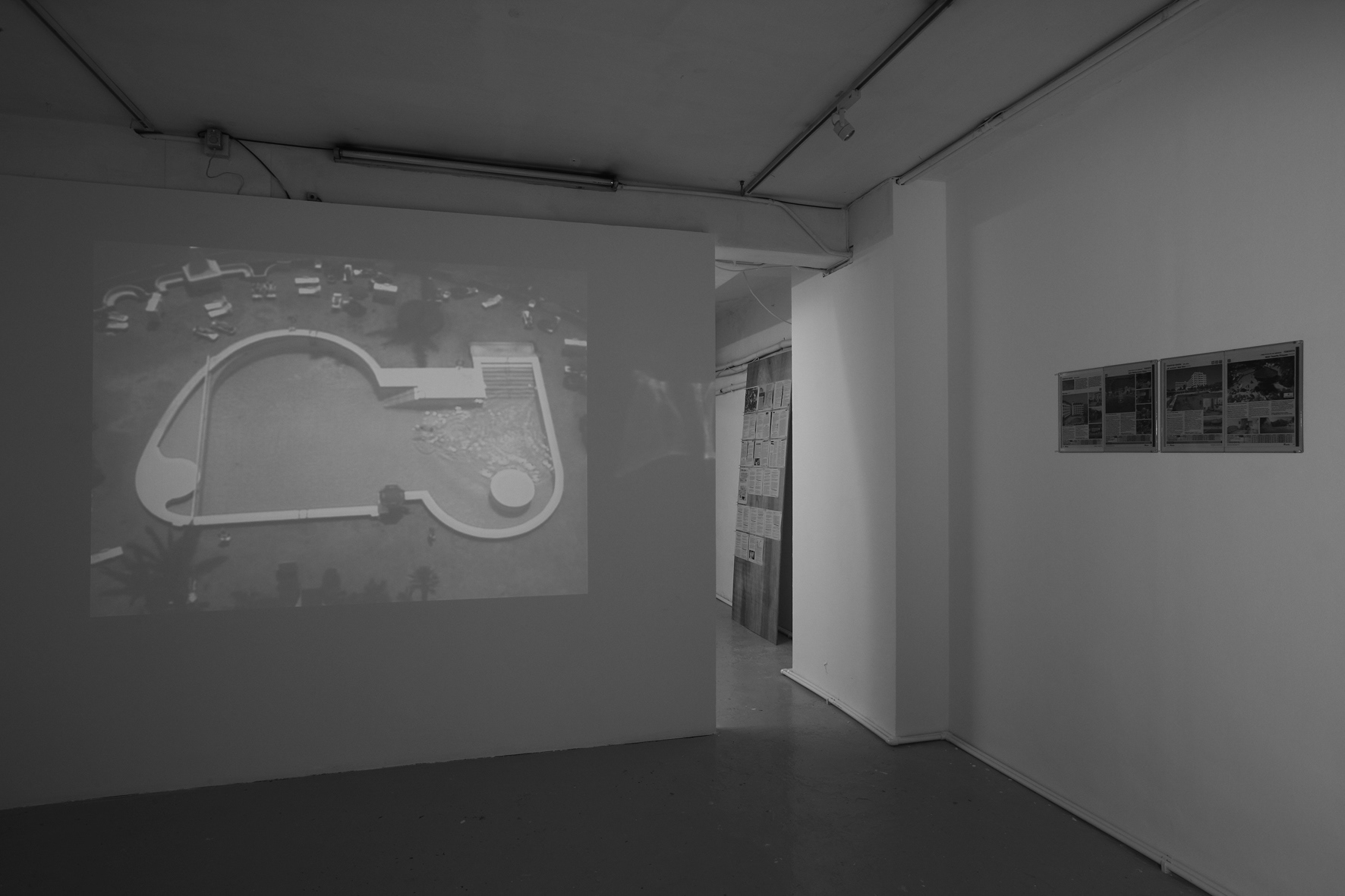 pages of travel brochure and video stills
Helen: ( purring ) Neddy, ... where've you been keeping yourself?
Merril: ( marvelling at the sky ) Oh, here and there, here and there, what a day ... have you ever seen such a glorious day?
.... he stands sipping his drink, glimpses other yards, other pools in the cascading landscapes of forest and dale.
Merril: If I take a dogleg to the southwest, I can swim home...
Merill: Pool by pool they form a river...all the way to our house...I'll call it the Lucinda river, after my wife.
The Waters of Lethe by the Plains of Elysium